Ingredients
1/2 cup butter, at room temperature
1/2 cup vegetable oil
1/2 cup granulated sugar
1/2 cup powdered sugar
1 egg
2 tbsp. vanilla extract, or a few vanilla beans
1 packet of crushed tea leaves
2 cups all-purpose flour
1/2 tsp. baking soda
1/4 tsp. salt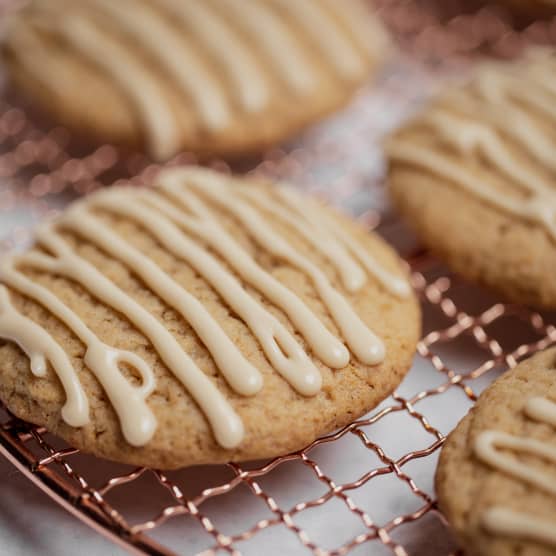 Steps
Preheat the oven to 350°C and prepare a baking sheet lined with parchment paper.
Use a stand mixer to combine the butter in a large bowl. Then, beat in vegetable oil, granulated sugar, powdered sugar, egg and vanilla at medium speed.
Use the whole tea packet and mix it all together.
On low speed and with a wooden spoon, add the flour, baking soda, and salt.
Once well mixed, refrigerate the mixture for 1 hour in the fridge, or 15 minutes in the freezer.
Make cookie balls with the dough, then place on a parchment-lined baking sheet, 1 inch apart.
Sprinkle a few grains of granulated sugar on top of the cookies to create a gritty crust.
Bake for 8 to 10 minutes, depending on the size. Let cool for a few minutes before adding the frosting.
---
Related: 10 Tips for Making the Best Cookies
---
How to make eggnog frosting
To make a delicious eggnog cream, take a large bowl and combine 1 cup of powdered sugar, 1/4 tsp. salt, 1/4 tsp. cinnamon, and 3 tsp. spoon milk (or eggnog)
Using a spoon, spread a generous amount of frosting on top of each cake.
Treat yourself!
Check out the step by step video right here.
---
→ Registration of Zest notes receive recipes, videos and expert advice.